According to the 2019 U.S. Houzz Kitchen Trends Study, quartz counters have overtaken natural stone as the top choice for upgraded counters, and engineered materials are now ahead of traditional hardwood for floors. The survey of over 1,300 U.S. homeowners using Houzz who are in the midst of, are planning, or recently completed a kitchen project.
Quartz Countertops Leap Ahead of Natural Stone
Engineered quartz (48%) surpassed all natural stone materials combined (43%) in popularity, paving the way to increasingly white countertops. Similarly, engineered flooring, such as engineered wood, vinyl and laminate, has become nearly twice as popular (40%) as natural hardwood (24%).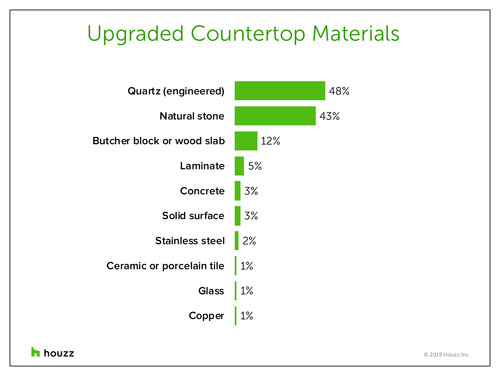 Engineered Flooring Outpaces Hardwood
Among the 69 percent of renovating homeowners who are upgrading their kitchen floors, ceramic or porcelain tile is the top choice (26 percent). Hardwood flooring has declined in popularity over the years (24 percent now compared with 32 percent two years ago). Meanwhile, engineered flooring has collectively become more common, with 17 percent choosing engineered wood, 12 percent choosing vinyl or resilient flooring and 11 percent choosing laminate.